More readily and lightly
Outstanding performance can be demonstrated on stage as well
Chaany's new cajon 「Bolso」 that can be folded up and carried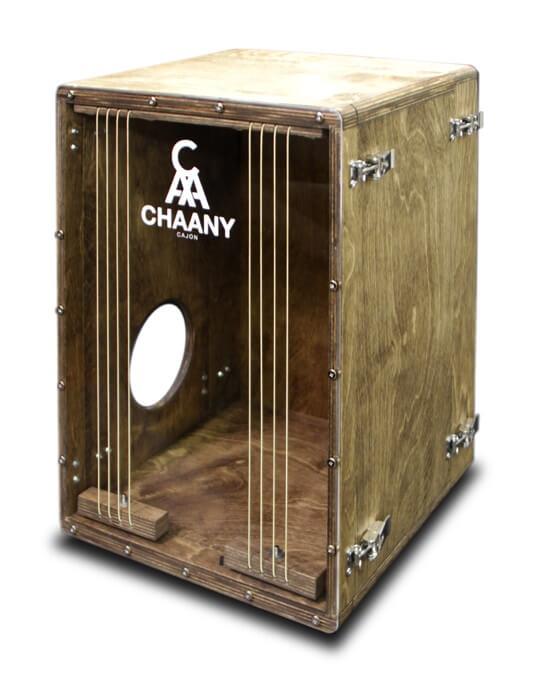 * Tap to switch to the folded image (tap outside the image to return to the original)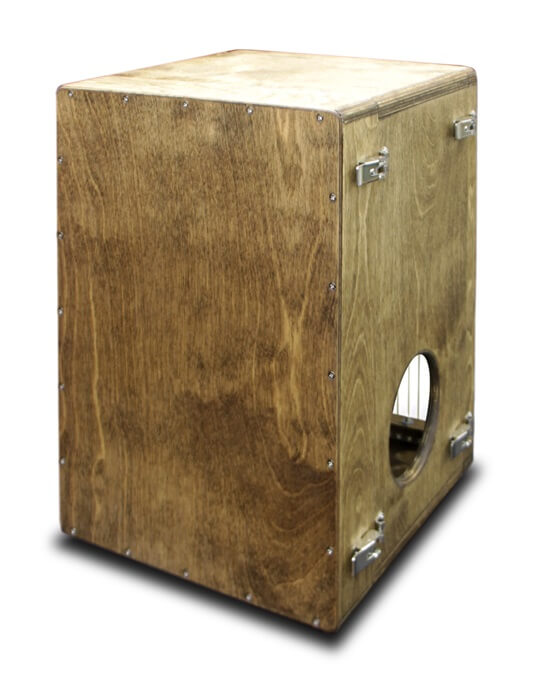 * Tap to switch to the folded image (tap outside the image to return to the original)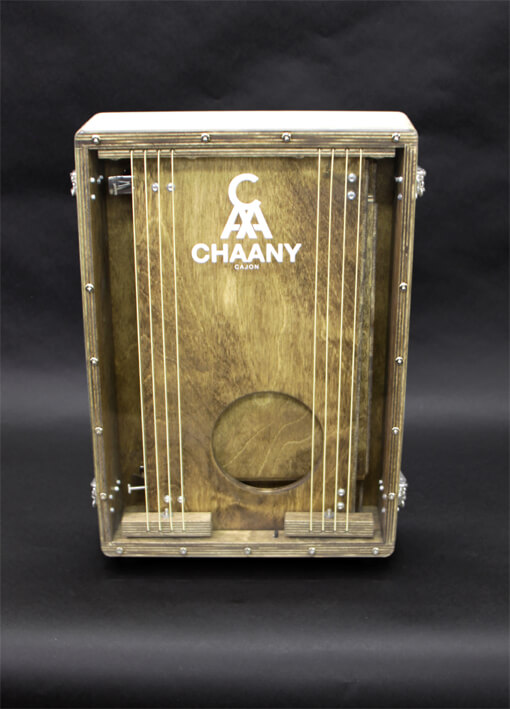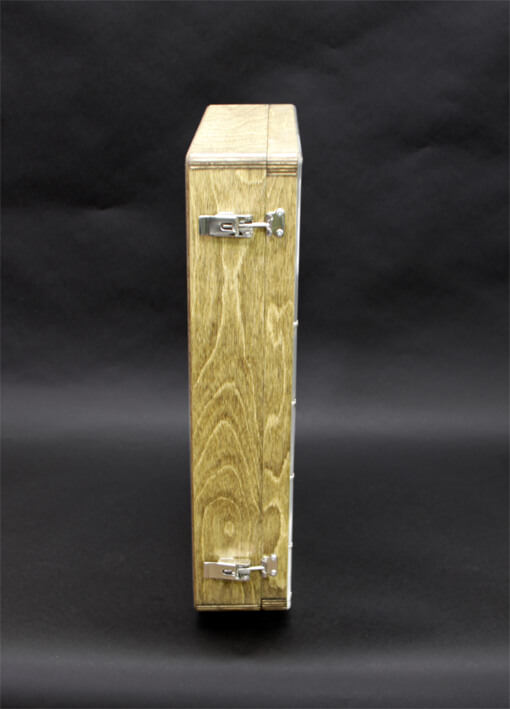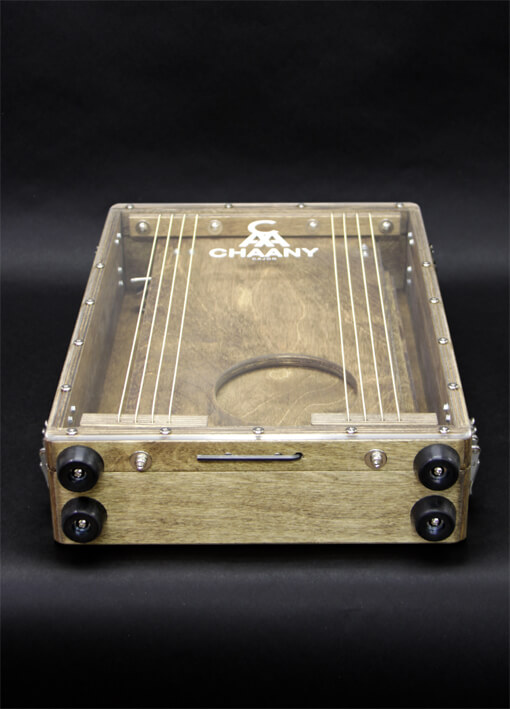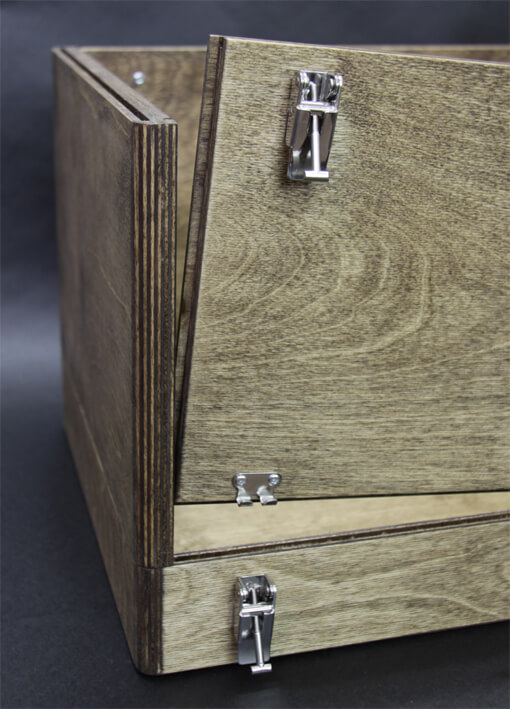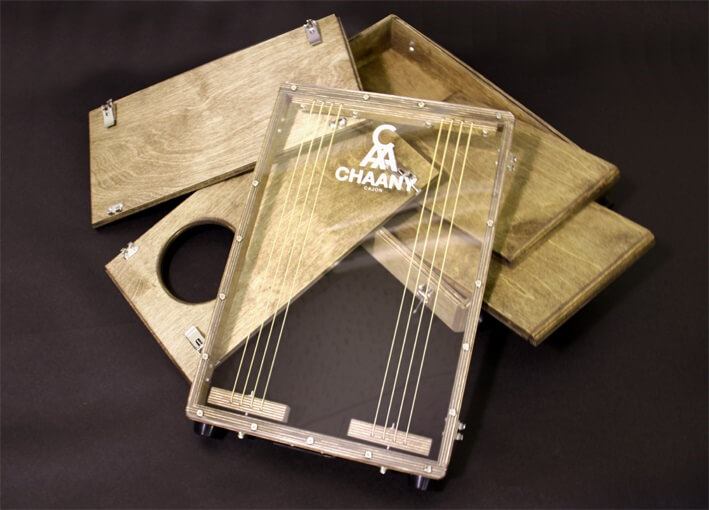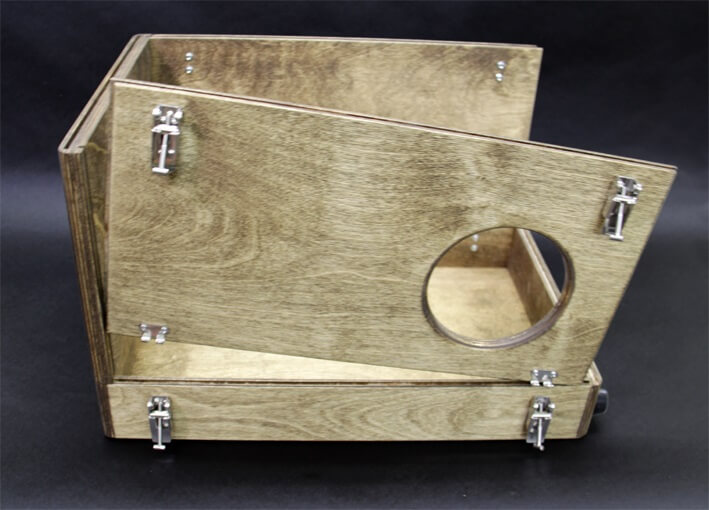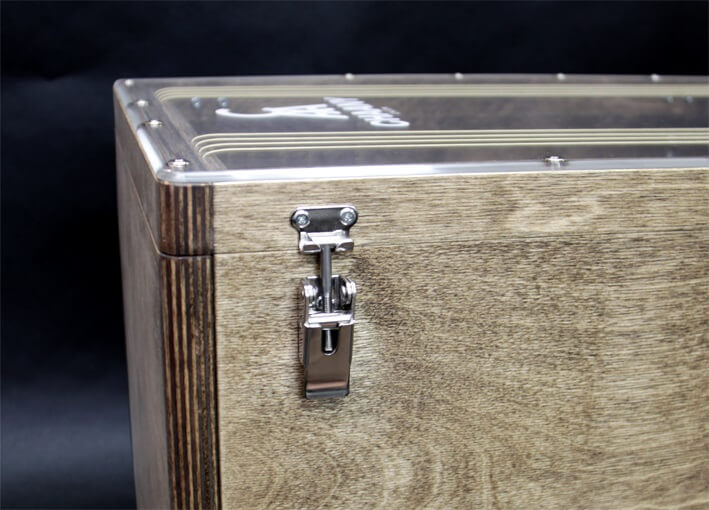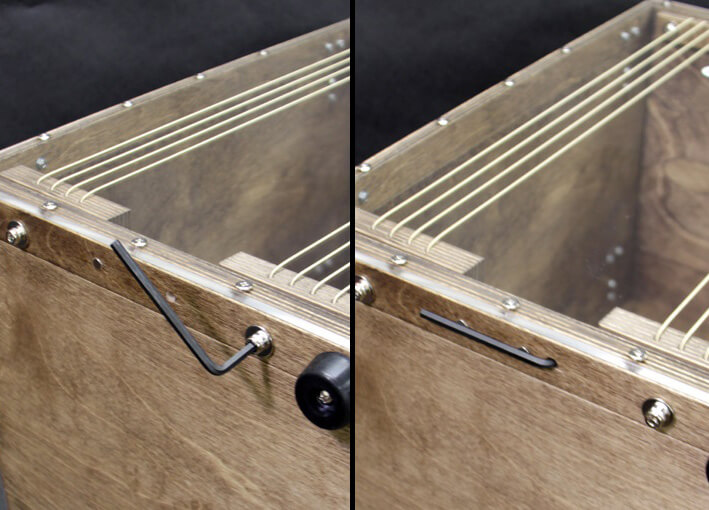 The top plate, bottom plate, and side plates of the body can be stored inside.
Can be assembled with a total of 8 clasps, 4 on each side.
Since it can be fastened with one-touch action, you can assemble it in about 1 minute once you get used to it.
Once you unfastened and fold it up, it becomes thin and lightweight cajon, and you can readily play it.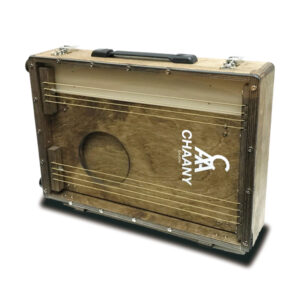 Option: attach a handle to the side face of the Bolso.

By using the handle, you can carry the folded Bolso with your hand.
We can attach a handle to either left or right side face.
Since the rubber feet will be attached to the opposite side of the handle, it can be placed directly on the floor.
Additional price: 5,000 JPY
* You cannot purchase the option alone.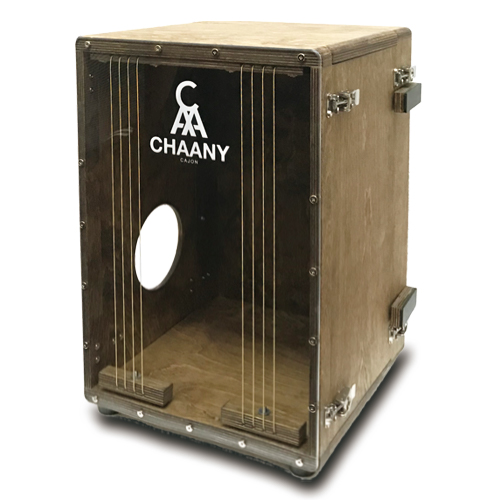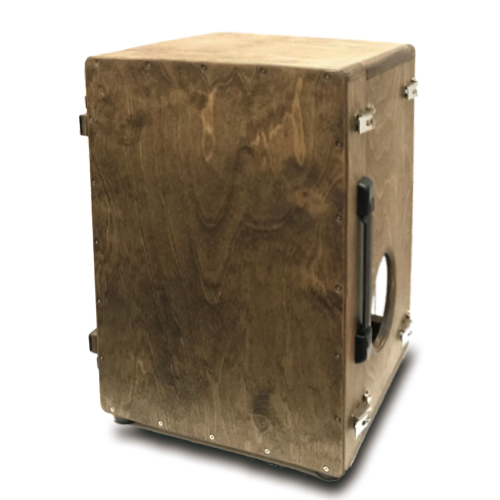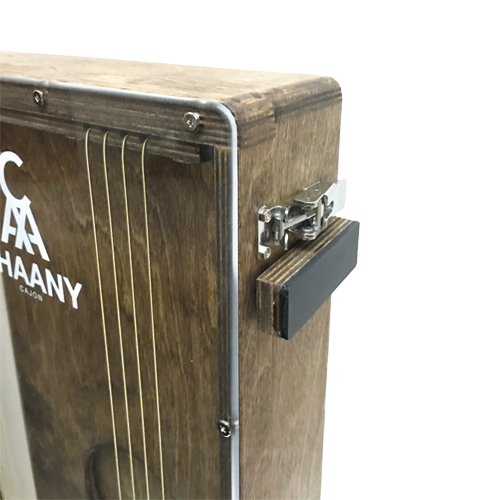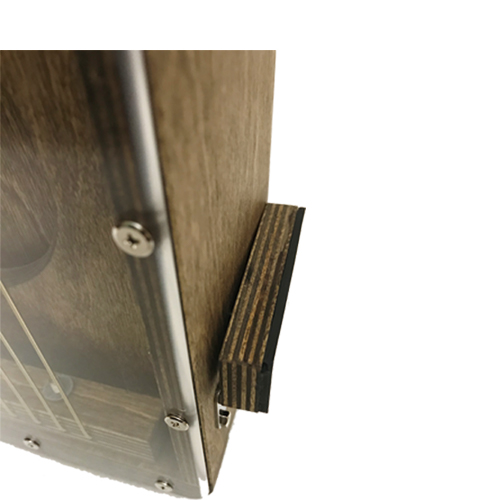 * Rubber feet can be used like castanets and can be available in a performance.
When you tap it, it makes sound with a snap! or click! such as castanets.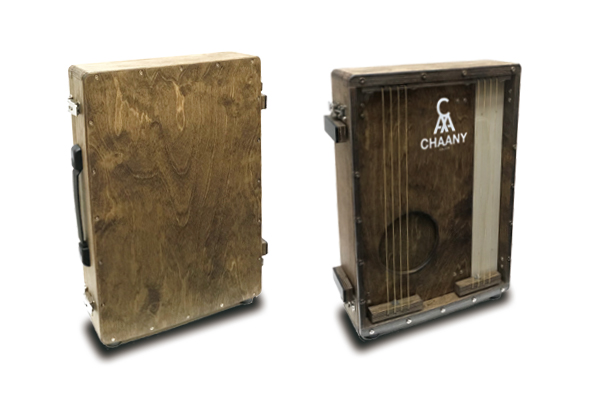 When the performer sits on the cajon, a handle will be on the left side and rubber feet on the right side.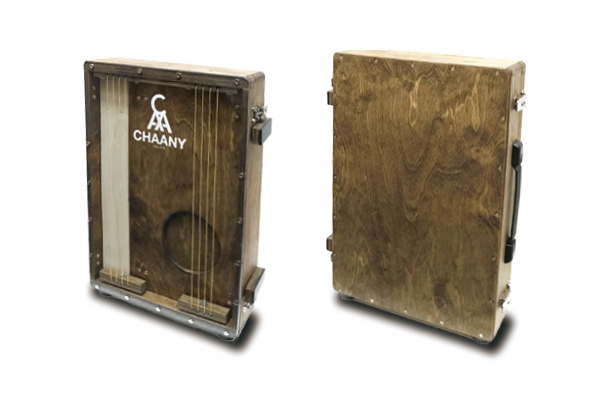 When the performer sits on the cajon, a handle will be on the right side and rubber feet on the left side.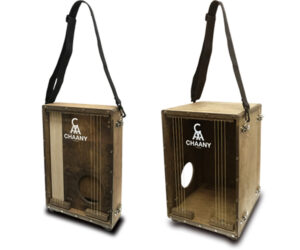 Option: attach metal fittings that can attach straps to the top 4 places of Bolso.
With the Bolso folded, you can hang it on your shoulder and carry it around. By hanging it from your shoulder with a strap, you can play the cajon while standing.
Additional price: 2,500 JPY
* You cannot purchase the option alone.
* Can be used in combination with the handle option.
* Only metal fittings can be attached. When using, please use a commercially available bag strap.
Although it is foldable, its sound quality is genuine.Please listen to the delicate and aggressive performance with earphones.

* For PV, the cajon microphone "cuerno" developed by Chaany is used.
Handle option performance video (performer: Mikihito)
Developed in collaboration with Mikihito: Mikihito's career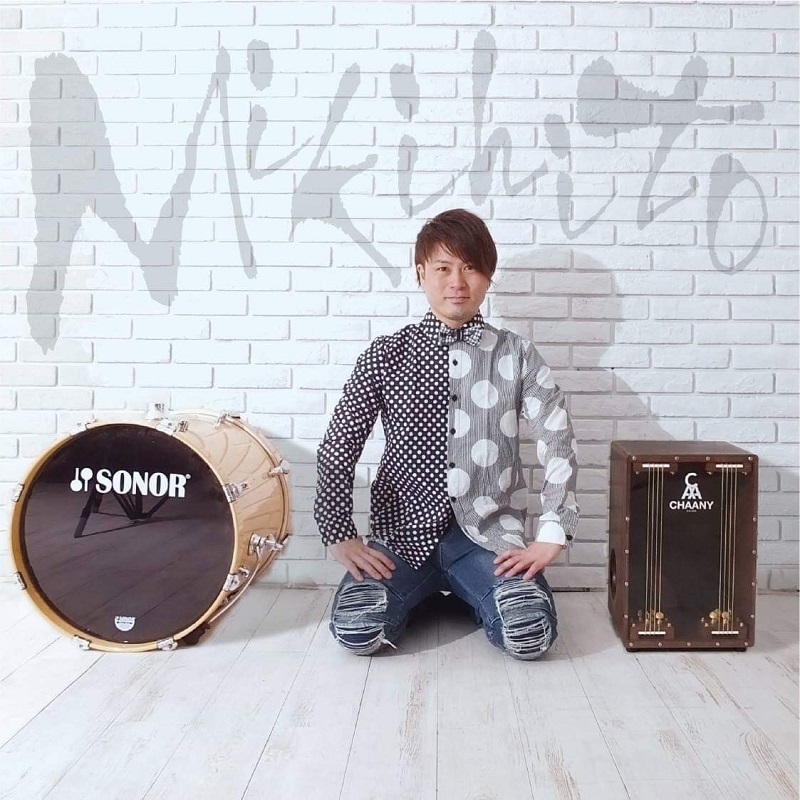 A drummer and percussionist who is active all over Japan, mainly in Nagoya.
He has performed live at major events such as "TREASURE 05X" and "24-hour TV", won awards in music contests, and released CDs nationwide and all over Asia.
At the solo exhibition of calligrapher Yuko Watanabe held in Paris, France, he is active in a wide variety of fields that are not bound by the framework of music, such as collaboration between sound and calligraphy, musical backing bands, and radio personalities.
He is also developing activities such as teaching and workshops as a unique percussionist with a kindergarten teacher type 2 and a nursery license.
【Links】
| | |
| --- | --- |
| Product | Bolso CHFC-D |
| Size(before assembly) | W300 x D95 x H450 mm |
| Size(after assembly) | W300 x D300 x H450 mm |
| Weight | Around 5kg |
| Front beating board | Acrylic |
| Back beating board | Finland birch plywood/Oil finish |
| Body | Russia birch plywood/Oil finish |
| Accessory | Wrench(For settings of beating board) |
| Options | Handle(TL/TR)  price:5,500 JPY Functions for strap(SK)  price:2,750 JPY |
※Color of real products may be different with photos as every grain of wood is unique. ※Price and design may be changed without announcement in case of improvement of products are needed.